Can I have parts of a Polyline change color or become a dotted line when rendering through/in front of obscuring geometry?
Can I have the possibility to draw a Polyline in front of all objects (possible today with "Depth Test" set to: Always), but have the otherwise would-be obscured parts of it change into a different color or dotted line while those parts are drawn "through" in front of the other objects?
(this unaffiliated image kind of shows the kind of behaviour I'm looking for)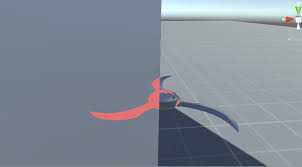 Thanks for your taking your time to read this!
Best Regards, Viktor
Reporting a bug? please specify Unity version:
Reporting a bug? please specify Shapes version:
Reporting a bug? please specify Render Pipeline:
URP