On Unity load, Shapes detects SRP then detects URP, causing needless delays
Just migrated my URP project from 2019 to 2020.3.17f1 and everything works! But every time I restart Unity, Shapes gets confused. It detects SRP (incorrectly), so it changes all the shaders. Then, soon after, it detects URP (correctly), and changes all the shaders back.
I'm about to try a fresh install per the sticky post in case that fixes it. But thought it would be good to share in case it doesn't.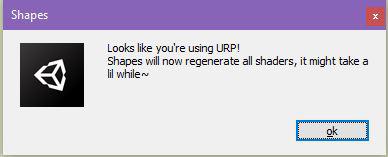 Reporting a bug? please specify Unity version:
2020.3.17f1
Reporting a bug? please specify Shapes version:
4.1
Reporting a bug? please specify Render Pipeline:
URP